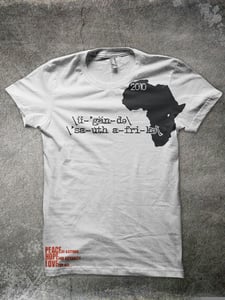 $

12.00 - On Sale
***This option does not include shipping and is intended for individuals that I may hand-deliver shirts to. If you require shipping, please use the "+Shipping" option. Thanks so much!***
Specially designed by myself to raise funds for my trip to Africa in the summer of 2010.
The shirt features the continent of Africa and the phonetic pronunciation of both countries I will be visiting, Uganda and South Africa. At the bottom of the shirt the text reads in red
"Peace of nations
Hope for Humanity
Love for all..."
More information about the trip and how you can support the trip is available on my blog about the trip.
*All shirts printed on white Hanes Heavyweight 100% cotton t-shirts